Education
Ed Finance Guru Marguerite Roza on how schools can best spend Covid Aid
[ad_1]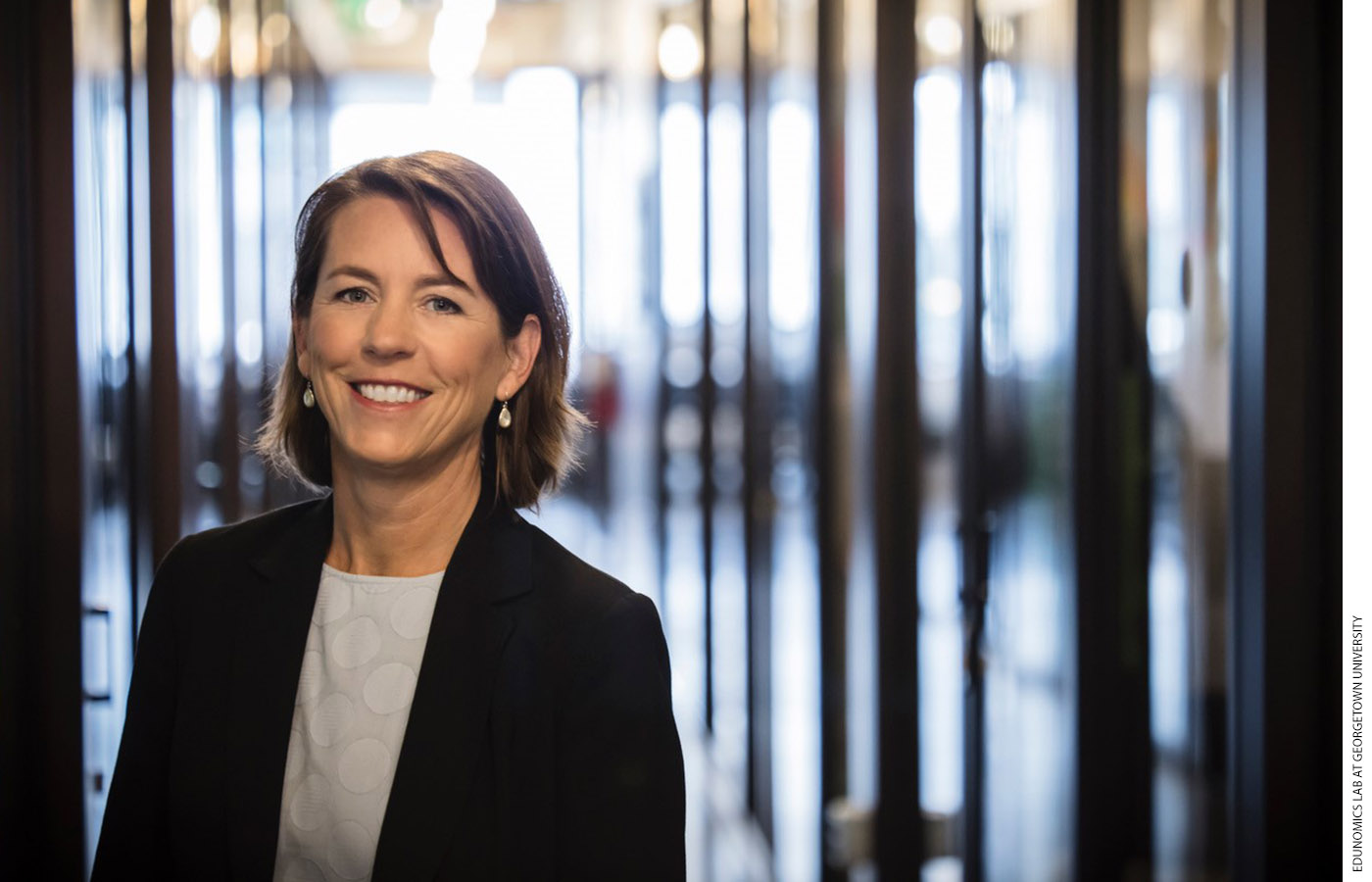 During the pandemic, the federal government provided unprecedented emergency assistance for K-12 education. How can school leaders make the most effective use of these funds to overcome learning interruptions, provide students with the support they need, and prepare students and the school for future success?In order to solve these problems, I contacted Margaret Roza, the director of the Educational Economics Laboratory of Georgetown University. She is Educational Economics: Where Did School Fund Go?, Let her know how to use COVID-19 assistance wisely and properly. This is what she has to say.
——Rick Hess
Hess: Can you remind us how much Covid-relief funds are provided for K-12, what conditions are attached, and who decides how to use these funds?
Rosa: certainly. Congress basically went all out to conduct a grand experiment, cutting checks in three rounds and sending funds to school districts. Each student totaled approximately US$3,750, or US$189 billion, with very little return required. Yes, the broad goal is to help students get back on track, but the school district has virtual full power to decide how to spend the money, and it is indeed the school district that can decide. Almost any expenditure is a fair game, including paying for new buildings, teacher bonuses, security contracts, employee allowances, COVID testing, electric buses, data systems, and more. By the way, these are real examples of constituencies. This money must be spent before 2024. Each region must develop a spending plan, and the fall due date varies from state to state; it is approved by the state government. Institution; and publish it online.
Hess: What more promising ways have you seen to spend these dollars?
Rosa: We have seen school districts make adjustments to help ensure that students return to school—for example, finding ways to pick up and drop off children during a shortage of bus drivers, update ventilation, and create virtual products when needed. As schools restart from the pandemic suspension, these actions make sense. In order to get the children back on track, we have seen various school districts launch summer courses, tutoring, remote consultation, longer school years, and so on. In some areas, the goal is to raise one-off salaries to address key shortages, such as special education teachers, provide incentive schemes to cover moving costs and retention bonuses, and pay stipends for teachers who undertake additional work. These are promising salary innovations that run counter to the unified stepped salary structure that has been dominated for decades. This is not to say that every investment will be successful; some regions will need to adjust again. However, when we see that the school district understands the needs of students in depth and flexibly solves the problem at hand, this is good news.
Hess: What is the school doing to make you stop?
Rosa: Any investment that does not represent the child, such as an overall increase in the basic salary. Or spend on new facilities that cannot be completed in time to benefit today's students affected by the pandemic. Or when school districts invest in simple things—such as hiring more vice principals or paying for security contracts—not because they believe in value, but because it quickly transfers large amounts of money in familiar ways. Or use this money to fill a budget that should have been adjusted a few years ago to deal with the decline in enrollment that started long before the pandemic. (Well, Minneapolis, we saw what you did there and used half of the relief funds to avoid layoffs and planned reductions.) We are also worried that the district will use these temporary funds to hire a large number of new regular employees because it Enable them to fall off the financial cliff.
Hess: What are some of the more common mistakes you see?
Rosa: We listed six common mistakes, including recurring promises that can lead to destructive fiscal cliffs, and the use of federal funds to avoid overdue cuts in a system that has been losing children for years. It also includes the risk of issuing a problematic contract that has not been publicly reviewed and does not include measurable milestones from the supplier. Without proper attention, these types of contracts can cause problems for leaders. To be fair, we later suspected that some regions would concentrate their relief funds on more advantageous schools. This may have happened unintentionally, especially when the advantageous schools immediately filled the vacancies and the higher demand schools still have vacancies. . Another mistake: The spending patterns in some areas may not be consistent with the values ​​of the community. Finally, the root cause of all errors is not showing the results to students.
Hess: Overall, what percentage do you think of the expenditures you are seeing?
Rosa: This is a $189 billion question, Rick. First, so far, only 10% of the funds have been spent. Any final answers to your questions will be done on a region-by-region basis. One area may have been attentive, but adjacent areas may not have much to show. The last part is the key. Because part of the evidence for expenditure lies in results. What did you get? We need to think carefully about how we track this, and on the basis of our assessment of what success means to this money, because of course the federal government does not define it. But the community can certainly put pressure on their area in this regard.
Hess: You spend a lot of time talking with state, system, and school leaders. When you do this, what advice would you give them?
Rosa: I don't think it's about what to buy, because the region and the school are different. But we did outline some principles to guide these choices and drafted some questions to promote smart spending. We recommend avoiding double commitments, spending fairly, and measuring the effectiveness of the investment. We encourage school districts to focus on students and avoid one-size-fits-all solutions. For this reason, we have seen some areas, such as Atlanta, Chicago, and Denver, send a portion of the funds directly to the school so that the principal and the community can work together to meet the needs of students. Many people, including us, hope that a federal education program of this size can stimulate some lasting innovation. So far, many regions are doing more of the same things as before. But some states, such as Utah, are deploying part of the funds through competitive grants for new ways of serving students. Some areas are taking bold steps, such as allowing drivers to take their children on the bus, or providing parents with cash rewards to cope with the shortage of school bus drivers and let them arrange their own transportation.
Hess: What do you think of the media reports on the use of these funds? very nice? not too good?
Rosa: This is an important moment for educating financial news. Most regions have more funds than ever before. But it is difficult for some people in the media to change their reports to adapt to this new reality. I think the media has become accustomed to a certain kind of narrative, namely the scarcity and reduction of public education. Media reports of "teachers leaving in droves" continue to appear, although the numbers are not so-job vacancies are indeed everywhere, but so far these seem to be driven more by a surge in new recruitment funded by relief funds. Instead of leaving the teacher. The reporter has too many things to report now: how each region invests in new funds; whether this can meet the needs of students; what it means for the labor market. The public needs the media to welcome this moment.
Hess: What should readers know about federal Covid assistance that might surprise them?
Rosa: Money is so flexible that if the district says they can't do something, they are usually wrong. We heard that the region cited various non-existent restrictions. For example, some people say that they are not allowed to provide any money to the family, which is not true at all. Some school districts now send part of the money to families for various purposes, such as sending parents to send their children to school, or sending high school students to participate in various courses or vaccinations, or sending to families to pay for the rich cost of their chosen plan or College savings accounts, etc.
Hess: Okay, one last question. Any advice for parents, educators, or local officials who want to help ensure that this money is used wisely and wisely?
Rosa: Although the federal government rarely attaches any conditions to the money, an important condition is that the district is required to engage with the community when making spending decisions. This means that for the first time in history, parents can have a real voice when making these decisions. Their voices are supported by federal law. Hope that more involvement in financial choices can help focus attention on students. Otherwise, the budget is easy to be pushed by some powerful political players, or more focused on the influence of employees, and may ignore the purpose of all expenditures. In fact, this is the children. This kind of participation has a real opportunity to rebalance the school budget process. This will be a victory for the region because it has the potential to build community trust, ideas and support.
For clarity, this interview has been edited and condensed.
[ad_2]
Source link